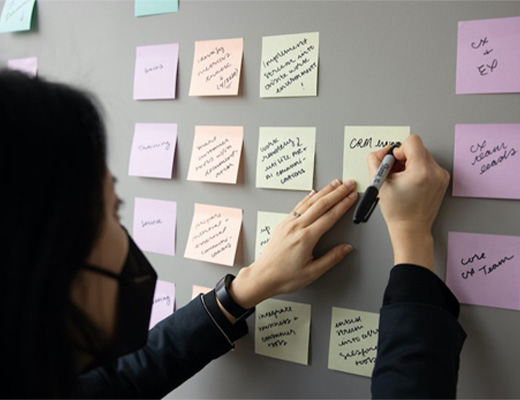 Digital Transformation Should Start with Customers
When technology and strategy serve the customer's needs first, new opportunities open up for enterprise businesses. That's why innovative brands are investing in digital customer-first transformation—to put customers and their future successes, first.
Digital Transformation Examples
These five customer-first digital transformation examples show ways that enterprise companies are organizing around the customer, breaking down silos, and transforming the impact of their work to deliver more for their customers and their bottom line.
Sponsor cross-functional innovation accelerators to quickly identify, test, and implement change programs.
Shift to responsive and resilient business models using continuous delivery and Agile principles.
Upgrade the customer journey and data with flexible cloud infrastructure.
Apply artificial intelligence (AI) and machine learning (ML) to optimize CX operations.
Return to responsive customer service with an omni-channel approach.
Sponsor cross-functional innovation accelerators
Change doesn't happen in a silo and it's never painless. Empowered innovation teams help companies build internal collaboration, explore ideas outside of the core business model, and can become a revenue engine, quickly launching programs and scaling those that deliver results.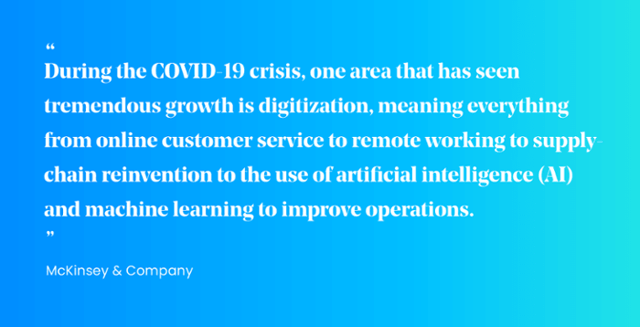 Shift to responsive and resilient business models.

Software and technology have used Agile for decades to focus on what matters most and deliver new products to customers quickly. No one was left untouched by global disruptions in 2020 and responsiveness has become a key customer-first transformation driver. To thrive in the next 3-5 years, brands will need to quickly take what they learned responding to COVID19 and turn those lessons into new customer-first capabilities. Many see agile as the fastest, most measurable path forward.
Upgrade the customer journey with flexible cloud infrastructure.
Legacy systems can drag productivity and innovation to a halt when one-off on-premise solutions keep data in silos. Cloud tools allow better real-time integrations between systems and teams, giving them the data they need to deliver winning experiences.

The initial costs of migrating to the cloud can be offset by efficiencies optimizing the customer journey, reducing costs to service requests, and using data to optimize the experience even further.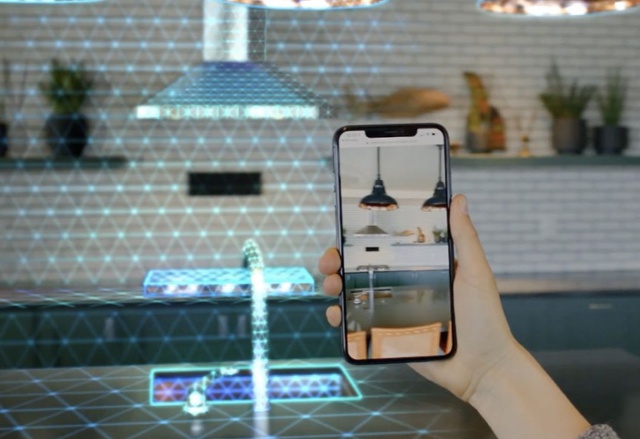 Artificial intelligence (AI) and machine learning (ML).
Robust customer-first enterprise operations are built on a foundation of data. Today's accessible and powerful AI and ML can turn that data into your competitive advantage by automatically sensing and learning from environments and reporting the results, just where you need them. Some assembly required.

Return to responsive customer-first service with omni-channel.
As the prevalence of customer-first experiences expands, consumers' preferences no-longer prioritize brand loyalty and have dramatically shifted in favor of immediacy, convenience, and quality of resolution.

Real-time, personalized service, like what customers get from Amazon Now and Postmates, has become a differentiating capability for any sized business. Being able to reach and service your customers on any channel they prefer, with the full details of their request, is a crucial foundation for enterprise service in 2021 and beyond.
Put customers first, from anywhere.
Transforming your organization to better serve your customers is no simple task, you need executive support, internal alignment on what matters, and a clear cross-team view of the data that makes a difference for your business.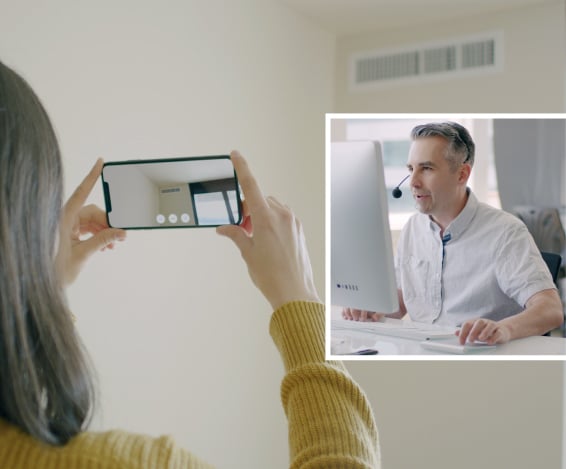 Organize around your customer with remote video support.
Change requires some difficult conversations about what works, and doesn't, and may even need some development work to get your back-end systems synced and reporting the data you need, but the impact of better servicing customers will lead to more resilient, responsive business that can respond to any customer need or outside disruption.

Streem's remote video support platform helps you reach customers and service their requests in real-time with a secure no-download solution—enhancing your work and delivering more customer value with each AR & AI powered touch-point.
Read the remote innovation eBook to learn more about how Streem tools can transform your organization.