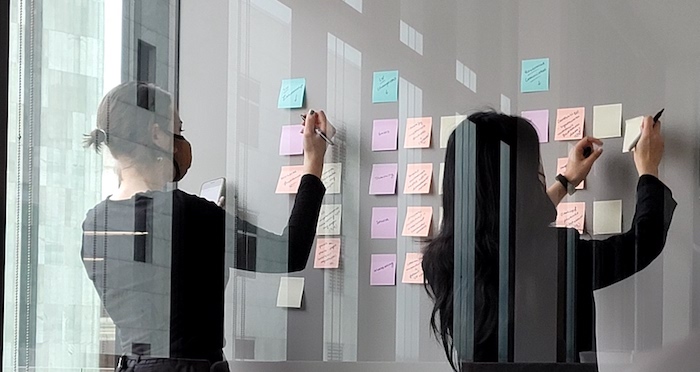 When up to 80% of digital transformation projects are expected to fail, the stakes for IT leaders couldn't be higher. By moving to a customer-first, remote mindset, CIO's can activate customer journey data and build the cross-functional collaboration required to realize return on enterprise digital transformation programs.
This series highlights the different teams and stakeholders you'll need to engage in your digital transformation efforts and the ways in which those teams will need to adapt and collaborate in order to deliver results with a remote customer mindset.
Digital Transformation isn't (just) about digital, shares Xplane's Greg Netzer, "[Digital Transformation] is a major shift, requiring multiple parts of an organization to rethink their approach to how they get work done, how they collaborate across business units, and how they engage with their customers."
CIOs and IT leaders should become internal champions for customer data to ensure that transformation efforts put customers first and to realize ROI in the market as quickly as possible.
Enable responsive service and digital customer experiences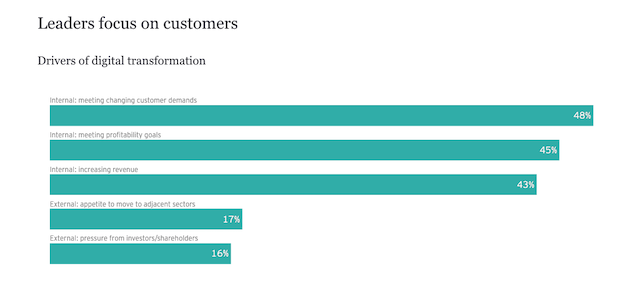 EY — What's driving digital transformation.
Enterprise transformation doesn't begin until your team, your business technology, and your data all align toward providing a customer-first experience and optimizing that journey at every step. As direct stakeholders in business systems and data, IT leadership has a unique opportunity to enable transformation and drive innovation.
"The role of IT now extends beyond what was primarily applications and internally central systems, into platforms that enable digital services and offerings to our customers," -Herve Coureil, Chief Digital Officer, CIO.com
Leaders must pivot teams from maintaining and servicing information infrastructure; a tech-first strategy, to reorganizing their tech-stacks to measure, automate, and optimize the customer journey; a customer-first approach.
Upgrade to cloud & omni-channel customer communication
Consumer expectations for high-quality, efficient digital experiences continue to rise as more and more buyers have gone online to navigate recent disruptions. For online experiences to match the personal and brand connections of brick and mortar stores, most companies must dramatically update their tech stack to handle the real-time data and integrated experiences.
By moving from legacy and on-premise solutions to easily scaled and integrated cloud systems, new tools and processes can be tested and integrated quickly, programs can be measured with an end-to-end view of the customer journey, and support teams can easily reach customers in real time with omni-channel connections to wherever customers are.
Traeger Wood Fired Grills® moved to a cloud-base omni-channel customer approach and reduced their sizable warranty budget by 51%. Read the case study to learn how Traeger transformed their customer experience with StreemCore™ video calls.
Collaborate with CX managers to quickly bring value to market
In Tech Horizon: Six habits of digital transformation leaders, EY notes that "[Bringing] technology innovations to market that have generated significant financial value for the business, and [building a culture where] innovation is woven into our business" are the two most important indicators of a successful change initiative.
Transformation requires a laser-focus on what moves the needle for customers and how rapidly this can be optimized to deliver value to the organization. Traditional IT development cycles and siloed waterfall processes move too slowly to keep up with customers who have come to expect new smartphones every 18 months.
In order to deliver value to customers and make an impact on your bottom line, IT needs to build partnerships with customer experience (CX) teams to lead agile, iterative improvements to the customer journey and prove the financial impact of everything they do.
These initiatives will be tested at every stage of the process. Your ability to prove customer value, the impact to the business, and what success at scale looks like will determine if your transformation program will ever see the light of day.
By building a coalition between your customer advocates and IT, leaders can be sure that your efforts are focused on customers, delivering great brand experiences on any channel, and building institutional value with every new insight.
Remote video empowers customer-first transformation, today.
Beloved customer brands and Fortune 500 innovation teams, like Traeger, Lowe's and Best Buy, are using Streem's AR-powered platform to revolutionize their customer journey and connect with their customers in real-time, remote video calls that are "better than being there."
Fast, secure, and easily integrated into your CRM, customer contact tools, or your branded native app — the Streem platform's AR remote collaboration toolkit helps you see what your customers see and respond to any request faster than ever.
Learn more about how Streem video helps you turn your IT team into a center of innovation and grow your CX strategy into a repeatable revenue flywheel.