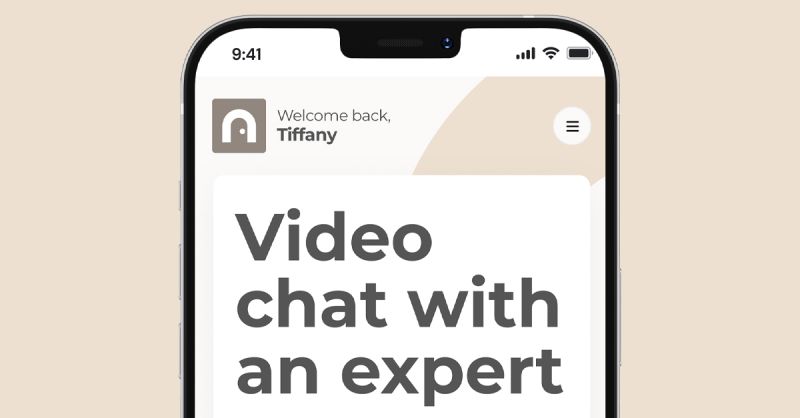 Originally Published: Frontdoor PR
The Frontdoor® app helps homeowners get things done smarter with a simple tap.
MEMPHIS, Tenn.--(BUSINESS WIRE)-- Frontdoor, Inc. (NASDAQ: FTDR), the nation's leading provider of home service plans with about two million members, today unveiled Frontdoor®, a first-of-its-kind mobile app addressing the evolving needs of tech-savvy homeowners.
"Frontdoor is an amazing app that will change how homeowners maintain and repair their most valuable asset. The video chat feature with one of our Experts is the heart of the experience," said Bill Cobb, Frontdoor's Chairman & CEO. "Homeowners can get help in real time. The Expert may be able to fix the problem right then and there, or if repairs are needed, we have a list of local, vetted professionals who can take care of the problem. Our Experts will guide homeowners through the process. All they have to do is open the Frontdoor."
There are 128 million homes in the U.S., and millennials (ages 23-41) comprise the largest portion of homebuyers at 43 percent, according to a National Association of Realtors 2022 Trends report. These millennial consumers differ greatly from previous generations as they rely heavily on social platforms, including TikTok and YouTube instructional videos, to find solutions for their home repair challenges.
Powered by Frontdoor's proprietary Streem video technology, Frontdoor is the ultimate tech solution to help homeowners tackle home repair and maintenance tasks with ease and convenience. Addressing a wide range of issues, including running toilets or glitchy washing machines, homeowners can use the app to video chat with pre-qualified Experts for real-time diagnosis and solutions. If a Frontdoor Expert is not able to fix the issue remotely, then Frontdoor can send a list of trusted and local professionals who can address your problem.
Frontdoor offers nationwide membership plans for every homeowner. The Basic membership is free and includes one free video chat session with an Expert, followed by a list of local, fully vetted service Pros, and access to Frontdoor's How-To Tips library. The Prime membership is an annual plan at $99 a year. It includes everything offered in the Basic package in addition to three total video chat sessions with Experts a year, exclusive discounts (up to 50% off retail pricing) for heating and A/C system replacements with financing options available, discounts and special pricing for home products and services that can be booked at any time.
Later this summer, additional details will be unveiled regarding Frontdoor's Premium monthly membership plan, which is ideal for those homeowners who want it all, including coverage for repairs, real-time advice, maintenance services, exclusive discounts, and more.
"We know modern homeowners want an easy and convenient digital experience. That's exactly what they get with Frontdoor," Cobb added. "Open the app on their phone. Quickly video chat with one of our experts. Get their problem solved."
The Frontdoor app is available to download now on iPhone and Android. For more information, visit www.frontdoor.com.
About Frontdoor
Frontdoor is reimagining how homeowners maintain and repair their most valuable asset - their home. As the parent company of two leading brands, we bring over 50 years of experience in providing our members with comprehensive options to protect their homes from costly and unexpected breakdowns through our extensive network of pre-qualified professional contractors. American Home Shield, the category leader in home service plans with approximately two million members, gives homeowners budget protection and convenience, covering up to 23 essential home systems and appliances. Frontdoor is a cutting edge, one-stop-app for home repair and maintenance. Enabled by our Streem technology, the app empowers homeowners by connecting them in real time through video chat with pre-qualified experts to diagnose and solve their problems. The Frontdoor app also offers homeowners a range of other benefits including DIY tips, discounts and more. For more information about American Home Shield and Frontdoor, please visit www.frontdoorhome.com.
FTDR-company