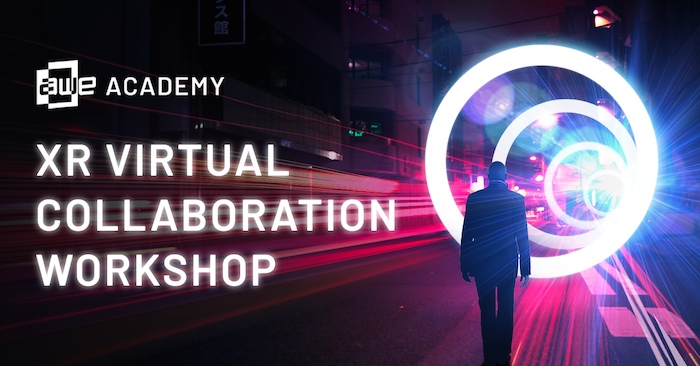 Recent accelerated adoption of remote-first and digital tools has pushed the dynamic, revenue generating possibilities of augmented reality (AR) and virtual reality (VR) to the forefront of innovative executives' minds. Many teams are eager to try XR, but XR skills are lacking internally and are not yet addressed by traditional or online academic institutions.
This interactive executive workshop will help you understand the XR collaboration space, which tools and workflows are right for you, and how to help teams to get the most value from these new "extended" capabilities.
What is "XR" in technology?
XR stands for "Extended Reality" and is a blanket term used to describe any number of experiences that layer content, like images, pictures, 3D models, and videos, into a user's environment—which could be a partially or completely digital space.
Find the right AR & VR collaboration tools for your work.
The AWE Academy has partnered with XR Consultant and Forbes columnist Charlie Fink to offer a comprehensive, effective evaluation of virtual collaboration platforms. In this workshop you will explore, experience and learn how to use 10 of the best virtual training and collaboration sites, like Streem, we've identified with over a year of research.
Previously offered only to corporate groups including Lockheed and Activision, this workshop is now open to the AWE community!
Learn if XR is right for you with Charlie Fink. Join a free online conversation May 25th, 9am PT.
Who should join the AR collaboration training?
Executives and HR Managers - Help your company or team navigate and evaluate XR collaboration tools for remote work and training
Engineers - Learn the ins and outs of deploying XR collaboration for your company at scale
Educators and Trainers - Explore XR's capabilities for immersive remote training and education
Teams - Discover new ways to collaborate with your colleagues via this emerging medium
Anyone looking beyond video conferencing!
Sign up for the XR collaboration training today
Learn more about the XR collaboration tools and teams, like Streem, that you'll be meeting with and learning from during this workshop.
Master Virtual XR Collaboration in Your Workplace
June 5-6
12pm-4pm each day
Access to a VR headset required
Space is limited. Sign up today at AWE Academy