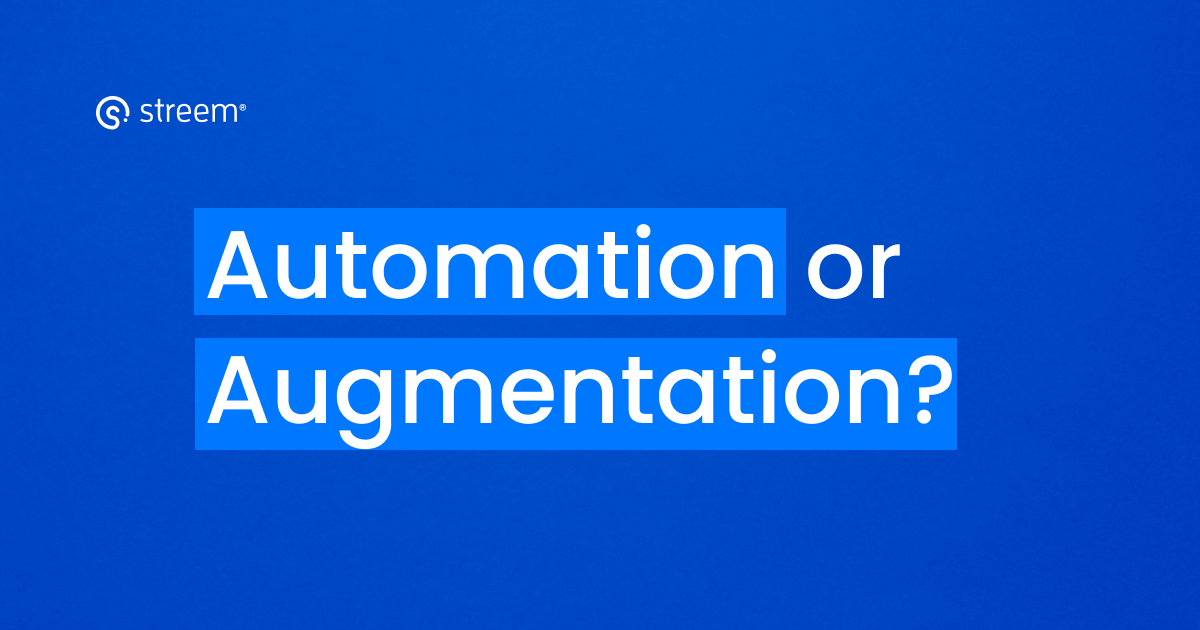 This blog was originally published on CX Today.
When it comes to customer experience, top brands are always looking for ways to improve their strategies and build brand loyalty – without compromising on efficiency.
CX improvements can take many forms, but generally, they fall into two categories: augmenting aspects of the customer journey by providing teams and customers with the right technology and automating processes so customers can self-serve and problem-solve.
Augmentation improves customer experiences with CX teams by adding technology that enhances them. Automation removes direct CX interaction to streamline processes. Successful CX teams augment some processes with the right technology while automating others. The trick is figuring out when to automate and when to augment.
The first thing to think about is what you want to achieve. We all want to keep customers happy, but brands have to ask what kind of experience customers expect and whether that customer experience is a point of differentiation.
Companies like Amazon do an exceptional job of automating their customer experience. They have been a leader in using automation to provide a fast and convenient shopping experience for its customers. Similarly, Apple's Genius Bar is another example of how allowing users to diagnose their own problems provides a more convenient and differentiated customer experience.
Other companies like Starbucks and Nike augment their customer experience to provide a personalized experience. In particular, the Nike+ app shows how augmentation can offer a personalized and differentiated customer experience while maintaining the human element.
But before selecting the technology your CX team needs, there are a few key considerations to work through to decide whether to automate or augment – and what technology is right for your business.
When and what should you automate?
Automated processes should help customers self-select or self-serve. They should reduce friction in customer experience and improve cost, all without negatively impacting the overall customer experience.
Some examples of processes that can be automated include:
Website chatbots that allow for a path to a human
Self-checkout options
Feedback gathering
Purchase confirmations
When should you decide to augment your CX processes?
When augmenting customer experience, your goal should be to provide your team with the tools they need to offer better, more efficient experiences.
Some CX examples of processes that can be augmented include:
Omnichannel support tools
Customer relationship management tools
Remote video
Live chat
Looking to augment your experiences? This is where Streem comes in.
Offering a personalized service is a proven way to boost customer loyalty–and it's often necessary when problem-solving is technical or specialized in nature. Remote diagnosis with Streem allows technical, warranty, or repair teams to see and solve problems remotely. This remote visual assistance accelerates diagnosis and support resolution times without requiring an on-site technician.
Streem addresses problems that can't be automated and would traditionally require a site visit, with all the accompanying inconveniences–waiting, having someone in your space, and the cost of a truck roll.
With Streem, customer service agents can better understand a caller's situation and offer a better route to a solution. Streem's AR video platform allows agents to escalate a customer service ticket to a video call, meaning agents can not only see the problem but better direct the customers to find the solutions to their issue or schedule an onsite visit with full context and the correct materials already on hand.
By augmenting the customer experience rather than automating it, businesses can avoid running the risk of frustrating customers and losing business. Streem helps experts connect with their customers and solve problems without leaving the office.