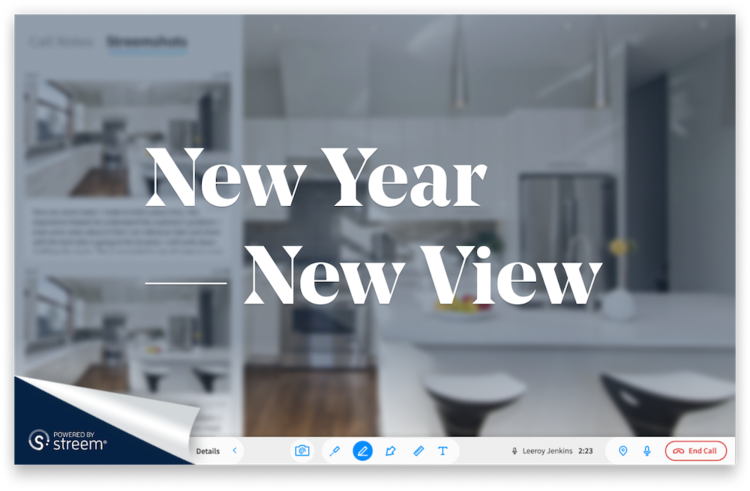 Coming soon, There's a new view for the Streem desktop experience. This launch is the culmination of a year of updates based on feedback from users like you, our product roadmap, and our UX research process.
As the UX and product leads for this project, we're excited to share this new experience with you and show you more of what you can expect.
Please note: This update only impacts the desktop expert experience, and no changes have been made to the customer view on any platform.
What changed?
Dashboard navigation — Access Streem tools and workflows, faster than ever.
Customize your profile — Experts can add photos and edit their user name.
Updated Invitations — Refined designs make it easier to connect with remote customers with SMS or with a shareable link.
Streem call tools — We've made your favorite tools more accessible during a Streem call and added tools to filter and view your call logs.
Admin Features — Account administrators have new abilities to manage their team and review call logs.
Let's take a quick look at all these updates together.
-Justin Kent, Product Manager & Nicole Guernsey, Sr. UX Designer
Navigation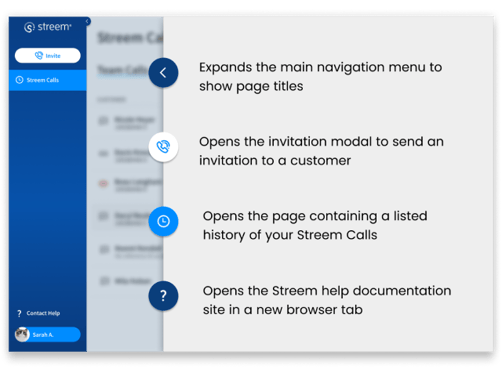 What's new:
The navigation bar has been re-designed to collapse on the left side of the screen giving you a larger view while using your Streem expert view. Quickly send an invitation to a Streem call and easily navigate the functions of Streem with this enhanced toolbar.
Features include:
Expand/close navigation
Quick overview of the platform
Contact help - via Support.streem.com
User Profile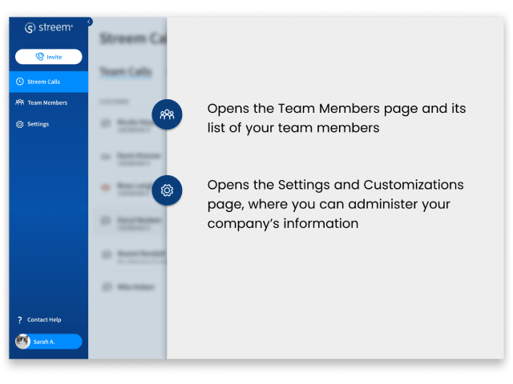 My Profile
Click on your profile icon to change your profile image, edit your displayed name, or log-out of Streem.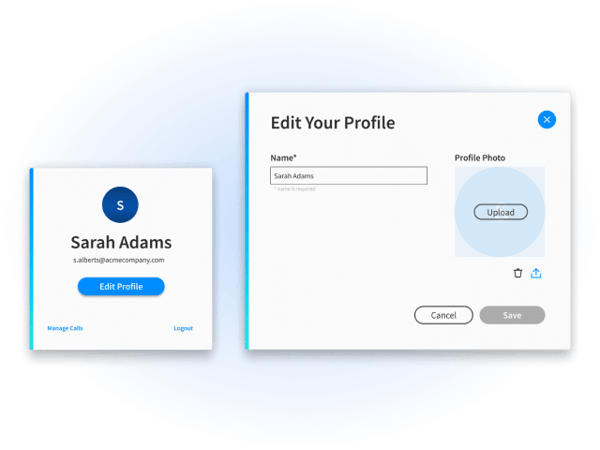 Invitations
The invitation button is your starting point for making a Streem call, use it to send an SMS invitation or create a link you can share directly with your customer to start a call.
The new "Copy & Paste Link" is great for sending Streem invitations via email or chat.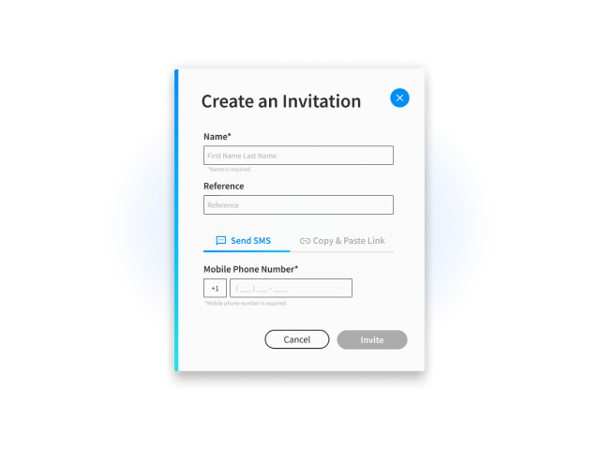 Call Details
Experts can now write and edit notes during a Streem Call—allowing you to take notes while seeing what your customer sees.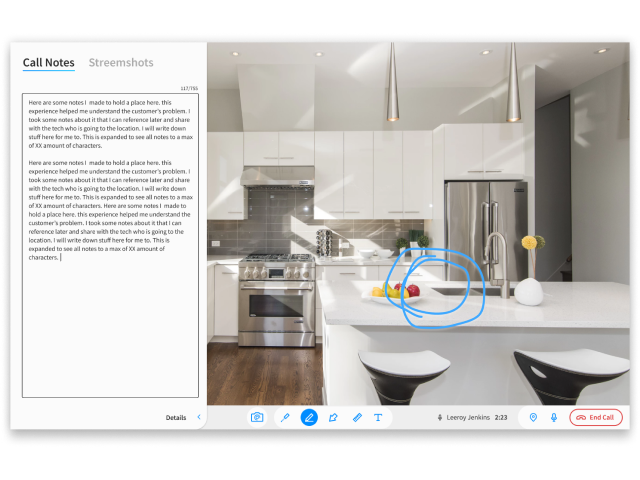 New: Call Log Filtering
The Call Log is where you can see all of your calls at a glance with helpful details about each Streem session.
Administrators can see list of all of their team members' calls in one place. They also have the ability to filter results by name or reference ID.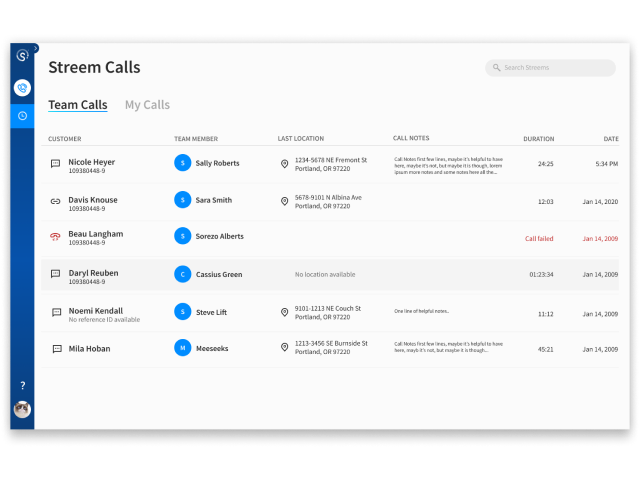 Team Admin Tools &
Customizations
Previously all company level updates needed to be requested through the Streem Customer Success team.
Now, Admins can configure their own company settings to meet their needs.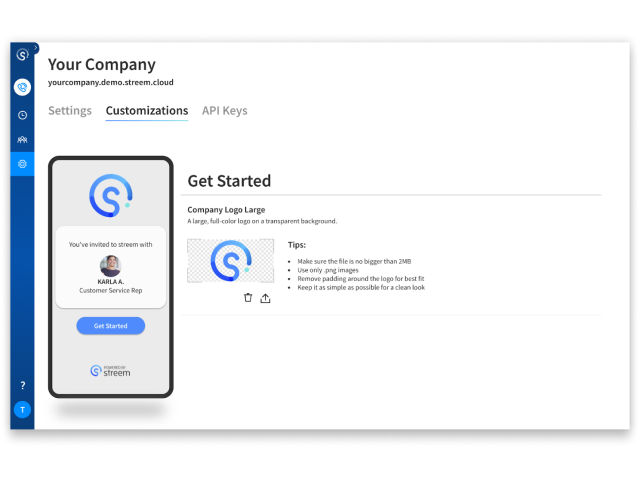 New: Add and edit team members
The Admin role is entirely new to Streem, we wanted to empower managers & leads to manage their own teams without contacting support.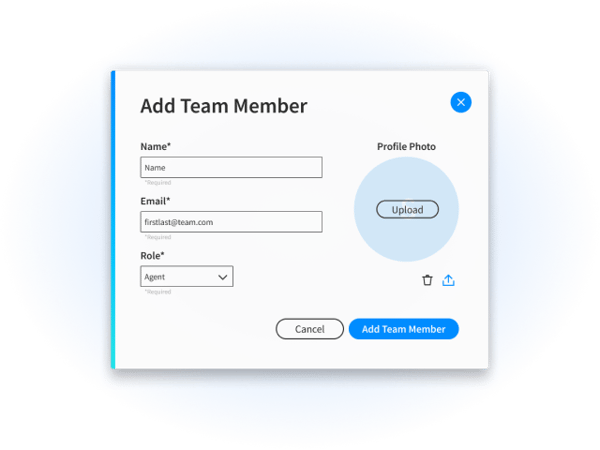 Thanks for taking a tour of the new Streem desktop experience with us. We value your feedback and would love to hear your reactions to these new features, fresh designs, and enhanced settings.
Please share your notes with us on this simple, 3 question survey. Thanks in advance!
-Justin and Nicole