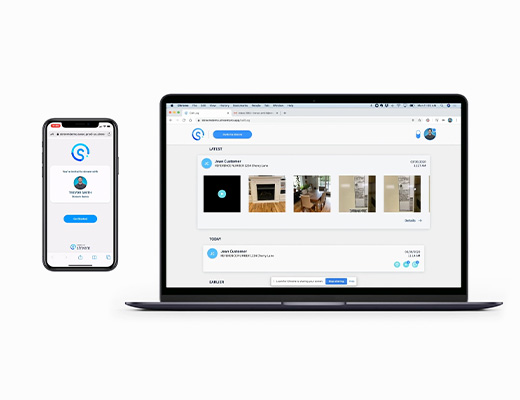 Streem interactive video calls are one of the fastest and easiest ways to connect with anyone, see what they see, and help them—completely remotely. With no app downloads or special equipment required, the Streem platform keeps you connected with customers, contractors or employees using two-way audio, one-way video and AR-powered interactive tools.
Once you've logged in to your account, it only takes a couple steps to connect or reconnect with anyone using our AR-powered communication and collaboration tools. .
Need a log-in? Compare Streem plans.
Starting a Streem video call
All you need to start an interactive video session is the name, phone number, and an optional (but highly recommended) reference ID for the contact you want to connect with.
Use your contact's information to quickly start an interactive video session from the Streem expert portal. Send them a link via SMS and wait for them to connect.
Every Streem account has an expert portal with a unique website URL, for example, http://accountname.streempro.app. If you already have a Streem account, please check your getting started email or contact your team's account owner to find your expert portal web address.
Once you're logged in, it's time to start a Streem call in three easy steps.
Enter your contact's name and phone number in the form at the top of your expert portal.
Add a unique reference ID so you can easily review the call later.
Click "Send Invite" to send a text message inviting your contact to join you in a Streem call.
When your contact accepts the app permissions and begins the secure video call you will be automatically connected—using two-way audio and one-way video and our interactive 3D tools. Ask your contact to show you their issue or request and quickly get to work helping them.
No big deal, calls drop sometimes.
Life happens. Interruptions abound. Calls drop. Sometimes you just need a break during a video call. It's ok. Unlike complicated video conferencing downloads, codes, and passwords, Streem makes it easy to connect and reconnect from anywhere.
Don't worry about searching your records and finding the right contact number. You can restart any Streem call with just a few clicks and no typing.
Here's what to do if you ever need to reconnect a Streem video call.
Scroll down in your call log to find the contact you want to connect with.
Click on the bubble with the caller's initials at the top of their call record.
Click "Ask to Streem" and wait for your contact to reconnect
Easy, on-demand remote assistance
Now that you know how to connect and reconnect with your customers using Streem interactive video, you can see the world from your customer's point of view and work together with them to identify, quote, troubleshoot, and resolve issues—remotely and on demand.
Have more questions? Check out our help portal at support.streem.pro
Ready to get started with Streem interactive video?