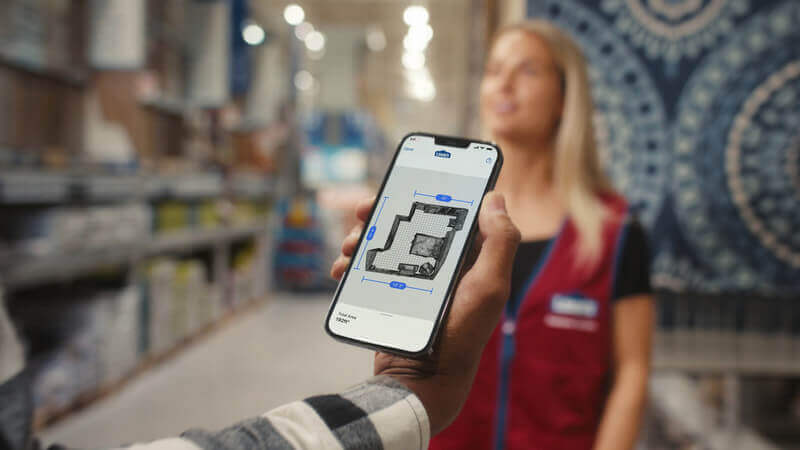 As part of its mission to "build the future of home improvement," Lowe's shared a vision for Spatial Commerce and previewed the new, customer-first AR feature—Measure Your SpaceBETA in advance of its launch in Q1 2022.
Measure Your SpaceBETA is an intuitive, end-to-end room scanning, measurement, and estimate experience in the Lowe's iOS app; leveraging augmented reality (AR) tools, artificial intelligence (AI), and the powerful LiDAR scanners on iPhones and iPads.
Developed by Lowe's Innovation Labs in partnership with Streem, Measure Your SpaceBETA guides homeowners through the process of scanning a room to seamlessly capture measurements that can be used in designing the space and purchasing the correct amount of materials.
Partnership Shaping the Future of Home Improvement
This AR-powered beta experience will launch before the end of Q1 2022. It is the second offering created in partnership with Lowe's, following Lowe's for Pros JobSIGHT™; a targeted application of StreemCore® AR-video. Lowe's for Pros JobSIGHT™, powered by Streem, was launched last year as part of Lowe's $25million rapid investment to help keep Pros working and serving their communities at the beginning of the COVID pandemic.
"Lowe's and Streem together are applying the use of complex augmented reality tools to create a simple, user-friendly app experience with the unique ability to make DIYers' lives easier.

This partnership is proving the value of spatial commerce today by using guided AR and AI experiences to empower consumers with the practical tools and data they need to dream, plan and accomplish home projects."


Ryan Fink; Co-Founder and President of Streem.
Introducing Spatial Commerce
Lowe's new spatial commerce experience will leverage LiDAR technology to get detailed room measurements. iPhones and iPads with the LiDAR Scanner use purpose-built sensors and software to sense depth and map dimensions of a space and the objects in it.
Lowe's customers will be able to access the feature simply by pressing the Measure Your SpaceBETA button on the product detail page of select flooring products in the Lowe's iOS app.
Home improvement can be complex, but at Lowe's, we're investing in emerging technologies like LiDAR, AI and mixed reality to make home improvement simple and intuitive.

We see a future in which the devices customers already own can sense, understand and compile information about their home, putting it in their hands the moment they need it. We call this future spatial commerce, and we're excited to bring it to our customers.

Seemantini Godbole, Lowe's executive vice president and chief information officer.
To see how Streem can help your company build a path to innovation, get a demo.