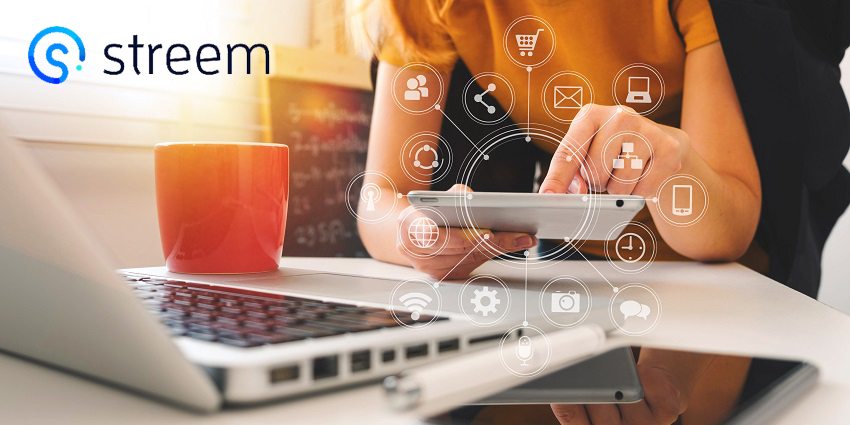 Discover how video support transforms how we connect for all and the fascinating communication preferences of each generation.
Remember the Rolodex? Most baby boomers will. Heck, some may even still have one.
Yet, for many younger generations, it's either something they used to play with on a parent's desk or – for some Gen Zers – akin to an artifact Indiana Jones would dig up.
Since the Rolodex, other devices have suffered a similar fate. Physical maps, pagers, and calendars have all become fond memories of the past.
Indeed, smartphones have swallowed them all up, with 85 percent of Americans owning one as of 2021.
These have – alongside other cultural phenomena – changed how people like to communicate, with clear trends across the generations:
Baby Boomers:

Born between 1945 – 1964

Generation X:

Born between 1965 – 1980

Millennials:

Born between 1981 – 1996

Gen Z:

Born between 1996 – 2012
With that said, it's critical to remember everyone – across these generations - is on a digital journey, just moving at a different pace.
As such, many of the insights below into the communication preferences across the generations will twist and turn with time.
Baby Boomers
Many baby boomers enjoy face-to-face conversations and talking over the phone, putting significant value on establishing relationships.
Research from Nova Southeastern University supports this claim, noting:
"The older the generational group, the more likely they are to prefer talking over texting and to have issues with the device interface."
That said, the pandemic forced a considerable surge in mobile phone use. That has increased their digital maturity – with many boomers joining family WhatsApp groups and engaging in video calls.
The latter proved particularly helpful in filling the human connection void lockdowns created.
Despite this, most boomers are slow to adopt new channels. For instance, Talkdesk found that only 38 percent of baby boomers have interacted with virtual chat automated by AI – compared to 78 percent of Gen Z.
Such findings don't necessarily show that older people are more resistant to tech but may need extra assistance to engage with them.
Generation X
Gen X often prefer email as a communication channel because it allows them to be efficient and respectful of other people's time.
Moreover, as the first-generation to access computers from birth, many have a deep-rooted affection for the channel – which boomers, millennials, and Gen Zer's often fail to grasp.
They will also search Google and engage with human and live agents on webchat to fulfil a particular purpose.
Yet, they're typically not as app-friendly as younger generations and will likely only add them to their phone to complete a specific task – not to unlock benefits.
In general, they are also less influenced by visual stimulation than millennials. Instead, they place more value on personal interaction – as perhaps demonstrated by how Facebook has 10 percent more Gen X users than YouTube.
Finally, as the "middle generation", they benefit from being both direct and relatively tech-savvy.
Millennials & Gen Z
Ironically, the phone calling app has become a smartphone app that Gen Z and millennials don't often use – with many suffering from the phone anxiety phenomenon.
That is a critical driver in why many do not default to a voice call - even when they have a significant issue - but explore other resolution avenues.
Yet, there are additional possibilities. For instance, these generations have grown up with digital solutions applied across many sectors and simply do not feel the need to pick up the phone to solve their problems.
Instead, they will likely do some homework upfront to find the most likely route to help them resolve their service issues quickly and conveniently.
Those options may include social channels, with 58 percent of Gen Z consumers previously using social media for customer service.
Messaging channels are also gaining momentum as millennials and Gen Z turn their back on email – fed up with generic, impersonal communications sent out en masse. Funnily enough, they're similar to boomers in this regard.
An excellent article from The Guardian delves deeper into this trend, entitled: "'They're 25, they don't do emails': is instant chat replacing the inbox?"
Why do These Trends Matter?
Considering the trends above is helpful when creating customer personas and building the human element into customer journey design.
In doing so, CX design teams may better understand their ideal customer base's emotional and functional requirements.
Moreover, they can consider the ideal routes to resolve issues when they encounter a particular pain point.
One channel that can add value across the generations and use cases is video, with an intelligent access strategy.
For instance, it allows boomers to engage one-to-one and gain a sense of relationship that typically drives loyalty; however, they may need more guidance to feel comfortable engaging on the channel.
Meanwhile, video fulfills the desire for Gen Xers to enjoy more personal interaction, and they will likely leverage the platform if they recognize the clear value-add.
Finally, millennials and Gen Z enjoy visual stimulation – with "how-to" videos often popular. Solutions that allow them to share videos of their problems via messaging and social apps are also popular as they appreciate the convenience of such innovation.
As video can drive all these benefits, solutions such as the Streem video platform resonate with many businesses – with end-users choosing to leverage various elements of it.
With tools such as AR-enabled annotation tools and full-res StreemShot photos, among other features, Streem gives companies the ability to connect with their customer more meaningfully while reducing waste and inefficiencies.
Customers do not need to download any apps or have any technical knowledge - all they need to do is point their phone camera at the problem they are looking to solve.
In the ever-evolving landscape of communication preferences, remote video solutions like Streem are emerging as powerful bridges across generational gaps.
As the digital journey progresses for each age group, it becomes increasingly important to facilitate seamless interactions that cater to diverse customer preferences.