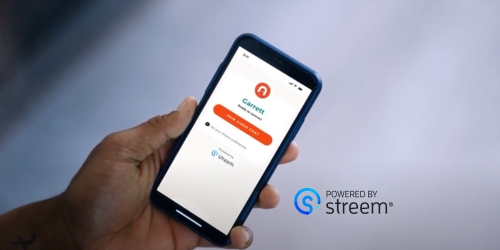 Originally Published: Frontdoor PR
Custom Ad Spot Features Superstar Outfielder Ronald Acuña Jr.
MEMPHIS, Tenn.--(BUSINESS WIRE)-- Frontdoor, Inc. (NASDAQ: FTDR), the nation's leading provider of home service plans, today announced a national advertising campaign as the presenting sponsor of opening week of the 2023 baseball season across all U.S.-based regional sports networks, with custom ads running from March 30 to April 9. The ad spot
will feature superstar Atlanta Braves outfielder, Ronald Acuña Jr., who showcases how he "gets the job done" on and off the field.
Enabled by Frontdoor's proprietary Streem video technology, Frontdoor is an app that empowers homeowners to tackle their home repair and maintenance tasks by connecting them with a pre-qualified expert via video chat who can help diagnose and solve their problems in real-time.
"As an avid baseball fan, I'm so excited for this presenting sponsorship. Working with Ronald and the broader team to develop the creative promoting Frontdoor and its quick and simple features evokes the feeling of 'getting things done'- much like what Ronald proves each and every day on the baseball field," said Kathy Collins, Frontdoor's chief marketing officer. "And homeowners can do it all through the convenience of their phones. They don't have to spend time getting bids or reading online reviews. Homeowners simply 'open the frontdoor' through our app to an entirely new, best-in-class solution that will surprise and delight."
Frontdoor partnered with Chemistry and Playfly to execute the high-profile presenting sponsorship, highlighting the app's diverse capabilities in unique ways that resonate with today's tech-savvy homeowner and baseball fan.
The opening week presenting sponsorship complements a series of marketing activations Frontdoor is executing in the coming weeks. Beyond the :30 ad spot running on-air in all U.S. professional baseball team markets, Acuña Jr. will also share content on his social channels to supplement the campaign, adding to the appeal of the Frontdoor app that taps video technology to speak directly with an expert for home maintenance and repair questions. The spot adds to the broader advertising campaign that showcases diverse talent that breaks stereotypes and makes clear that all homeowners - whether they need a little bit of help or a lot - can benefit from the app.
"Our campaign meets consumers where they are based and plays to many of their passions, including the highly-anticipated start of the professional baseball season," added Collins. "With spring cleaning and work around the home top-of-mind this time of year, we couldn't think of a better time to launch Frontdoor and reach a broad spectrum of fans and homeowners."
For more information about the app, please visit www.frontdoor.com.
About Frontdoor
Frontdoor is reimagining how homeowners maintain and repair their most valuable asset - their home. As the parent company of two leading brands, we bring over 50 years of experience in providing our members with comprehensive options to protect their homes from costly and unexpected breakdowns through our extensive network of pre-qualified professional contractors. American Home Shield, the category leader in home service plans with approximately two million members, gives homeowners budget protection and convenience, covering up to 23 essential home systems and appliances. Frontdoor is a cutting edge, one-stop-app for home repair and maintenance. Enabled by our Streem technology, the app empowers homeowners by connecting them in real time through video chat with pre-qualified experts to diagnose and solve their problems. The Frontdoor app also offers homeowners a range of other benefits including DIY tips, discounts and more. For more information about American Home Shield and Frontdoor, please visit frontdoorhome.com (soon to be frontdoor.com).
FTDR-company